Domestic violence increases on Super Bowl Sunday – fact or fiction?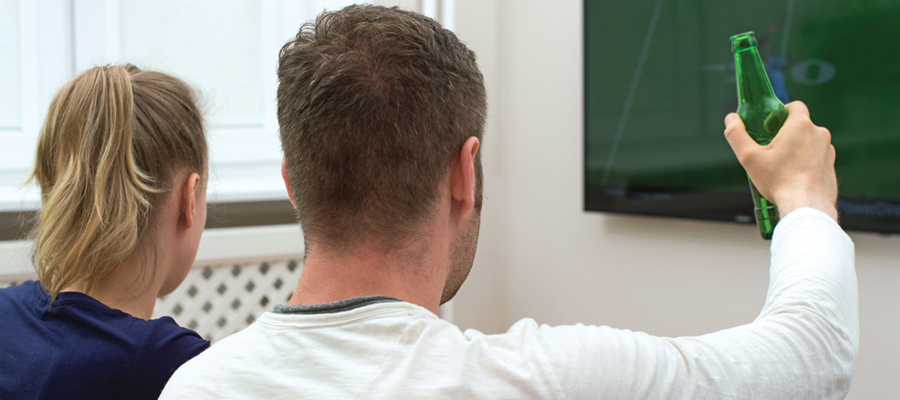 For years, the media has perpetuated the belief that Super Bowl Sunday is the most dangerous day of the year. However, the research shows that this is just a myth, and there is no specific link between the Super Bowl and an increase in domestic violence. What the research does show is domestic violence spikes on weekends and holidays or on other special occasions that center around family and….alcohol. So, you might see increases in domestic violence on the Fourth of July, New Year's Eve, a Saturday night or…..on Super Bowl Sunday. Regardless of when domestic violence happens, it is a serious issue that should be addressed as soon as possible.
At Ward Family Law Group, we represent victims of domestic violence throughout southwestern Wake County, including the Cary, Apex, Holly Springs, and Morrisville communities. If you are a victim of domestic violence, you need to know your rights and seek help.
In North Carolina, a victim of domestic violence can obtain what is called a "Domestic Violence Protective Order" (DVPO). A DVPO is a court order that will require the abuser to stop committing further acts of domestic violence against the victim. A DVPO can also grant the victim possession of the residence and vehicle shared with the abuser, it can order the eviction of the aggressor from the home, it can prohibit the aggressor from purchasing or possessing firearms, it can give you possession of a pet, it can order the aggressor to attend and complete an abuser treatment program, and it can also grant you temporary custody of children that the victim/abuser have in common.
The relief granted in a DVPO can be extremely helpful to a victim of domestic violence. However, many people don't know what domestic violence is, or find the term "domestic violence" scary, intimidating and don't' know if they even qualify for help. First, to qualify for a DVPO, you first must show that you and the aggressor have the required "domestic" or "personal" relationship. You and the aggressor must have at least one of the following types of relationships:
Current or former spouse
Members of the opposite sex who live together or have lived together
Parent and child
Have a child in common
Current or former household members
Persons of the opposite sex who are in a dating relationship, which means a romantic relationship over time and does not include casual acquaintances.
Once you have established that you have the required "personal relationship" as defined above, you must then show that the aggressor has committed one of the following acts of domestic violence:
The aggressor attempted to cause you bodily injury;
The aggressor has in fact caused you bodily injury;
The aggressor placed you or a member of your family or household in fear of imminent (immediate) serious bodily injury;
The aggressor placed you or a member of your family or household in fear of continued harassment which causes you to suffer substantial emotional distress; or
The aggressor has committed a sexual offense against the victim, including rape.
Some acts of domestic violence are easier to prove than others. For example, if you were hit by your spouse and that attack left a mark, depending on the circumstances, the physical evidence of the attack alone could be sufficient evidence to obtain a DVPO. However, other acts of domestic violence can be more challenging to prove.
Harassment, for example, does not have a simple, clear line. Harassment, as defined in North Carolina General Statute §14-277.3A, is knowingly directing conduct towards a specific person that torments, terrorizes, or terrifies that person and serves no legitimate purpose. But what does that mean? Is sending five text messages in a minute harassment? What about 10? 50? 100? What about driving by your ex-girlfriend's house one time? Twice? Ten times in one night? The answer to "what is harassment" depends on the all of the facts and circumstances in your specific situation. Every situation is different, and each situation needs to be looked at on its own merits to determine if domestic violence is present.
If you are a victim of domestic violence and feel that you are in immediate danger, you should call 911. Or you can call local police departments, which are all trained to deal with domestic violence situations.
There are also several community resources available to victims of domestic violence, including Interact of Wake County, whose toll free number is 866-291-0855.
If you think that you might be a victim of domestic violence, or if you are afraid you may become a victim of domestic violence, it is important to contact an attorney with experience dealing with domestic violence to review your options and make sure you are putting plans in place to protect yourself.
The Super Bowl isn't the most dangerous day of the year. Domestic violence can occur at any time, whether it is the Super Bowl, Christmas, or a Tuesday. Regardless of when it might happen, it is important to be proactive and protect yourself. You do not have to wait until you are physically harmed to protect yourself.